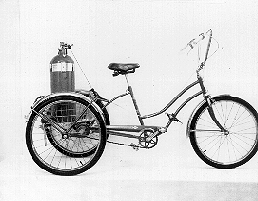 C5-14: ROCKET TRIKE
PURPOSE: To demonstrate the third law of motion dramatically.
DESCRIPTION: Pressing the fire extinguisher handle expels carbon dioxide out a nozzle straight behind the tricycle, causing forward thrust of the tricycle.
This is a MUST - an unforgettable demonstration.
SUGGESTIONS: Be CAREFUL! It goes FAST!
REFERENCES: (PIRA unavailable.)
EQUIPMENT: Rocket tricycle, as photographed.
SETUP TIME: None.
---