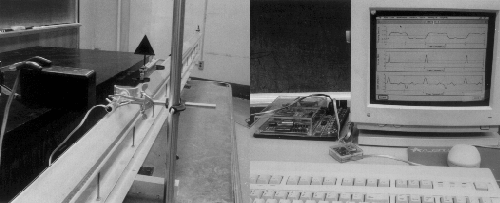 C4-04: F=MA WITH ULI AND FORCE PROBE
PURPOSE: Demonstrate forces required to change the momentum of an air track glider.
DESCRIPTION: The Universal Laboratory Interface is used with an ultrasonic range finder and force probe to plot a graph of the motion as an air track glider approaches the end of the air track, bounces off the force probe with an approximately elastic collision, and returns in the opposite direction. The force probe measures and plots the force as a function of time during the collision of the cart with the end of the track at which the force probe is mounted. The integral of the force over the contact time is the impulse, which is equal to the change of momentum of the glider. The velocity as a function of time, plotted by the motion software, is used to independently determine the change in momentum of the glider.
SUGGESTIONS:
REFERENCES: (PIRA unavailable.)
EQUIPMENT: Air track with glider, force probe, ultrasonic range detector, and computer.
SETUP TIME: 10 min.
---