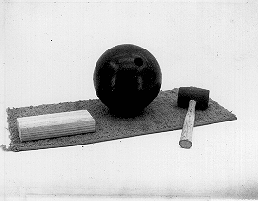 C4-03: ACCELERATION BY ITERATED BLOWS
PURPOSE: To illustrate the numerical technique by which a computer carries out integration of the equation a = F/m.
DESCRIPTION: The bowling ball is accelerated by a series of small blows with the mallet. Both linear and centripetal acceleration can be illustrated.
SUGGESTIONS:
REFERENCES: (PIRA unavailable.)
EQUIPMENT: Bowling ball and mallet; optional 20 foot track for the case of linear motion.
SETUP TIME: None.
---