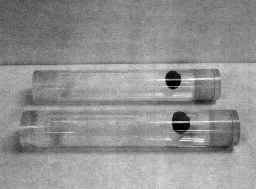 C4-11: ACCELEROMETER - BALL IN WATER
PURPOSE: To demonstrate the direction of acceleration for both linear and circular cases.
DESCRIPTION: When the accelerometer is accelerated linearly, the pingpong ball, being less dense than the water, moves toward the direction of the acceleration. When the jars are rotated the pingpong ball moves toward the center of rotation.
SUGGESTIONS:
REFERENCES: (PIRA 1G20.87)
EQUIPMENT: Water-filled plastic tubes with pingpong balls, as photographed.
SETUP TIME: None.
---