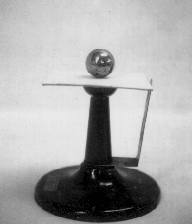 C3-01: INERTIA - SMALL STEEL BALL
PURPOSE: To demonstrate inertia of rest.
DESCRIPTION: A spring is pulled back and released, flipping the card away so that the steel ball falls into the cup. A small flat has been filed onto the ball so that it will rest in position on the card.
SUGGESTIONS: This experiment is useful only for small groups.
REFERENCES: (PIRA 1F20.34)
EQUIPMENT: Stand with spring, card, and ball, as photographed.
SETUP TIME: None.
---