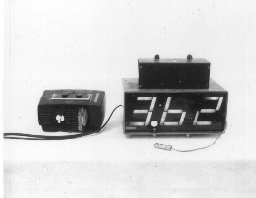 C2-05: FREE FALL - USING FILM LOOP
PURPOSE: To determine the acceleration of gravity using a film loop of a freely falling object.
DESCRIPTION: A ball is dropped from a height of 4 meters. Take time data as ball reaches 3m, 2m, and 1m markers.
SUGGESTIONS:
REFERENCES: (PIRA 1C30.10) See further instructions and sample data in the Demonstration Reference File.
EQUIPMENT: Film loop "Acceleration due to Gravity II" and digital timer system, as photographed.
SETUP TIME: None.
---