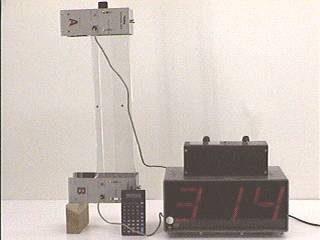 C2-04: FREE FALL WITH PHOTOCELL GATES
PURPOSE: To measure the acceleration of gravity.
DESCRIPTION: The gates are set about x = 50 cm apart along the vertical line defined by the guide tube. A short aluminum cylinder is held immediately above the top photocell beam and released. The acceleration of gravity is then detemined using the equation g = 2 x / t**2.
SUGGESTIONS:
REFERENCES: (PIRA 1C30.112)
EQUIPMENT: Photocell gate timer, cylindrical mass with plastic tube mounted as photographed.
SETUP TIME: 10 min.
---