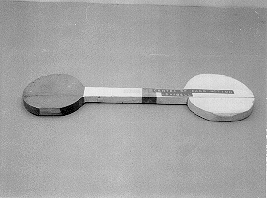 C1-01: CENTER OF MASS MOTION - BARBELL
PURPOSE: To demonstrate motion of the center of mass of an asymmetric object.
DESCRIPTION: A barbell with unequal ends is thrown through the air. The center of mass (marked in bright orange) moves in a smooth parabolic arc despite the gyrations of the two asymmetric ends.
SUGGESTIONS:
REFERENCES: (PIRA 1D40.00)
EQUIPMENT: Barbell, as photographed.
SETUP TIME: None.
---