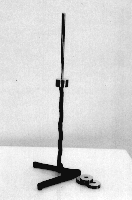 B4-02: HOOKE'S LAW - COMPRESSING A SPRING
PURPOSE: To demonstrate Hooke's law for a spring under compression.
DESCRIPTION: Add weights to observe that the compression of the spring is proportional to the amount of weight added.
SUGGESTIONS:
REFERENCES: (PIRA unavailable.)
EQUIPMENT: Spring on stand, five equal weights, meterstick, as photographed.
SETUP TIME: None.
---