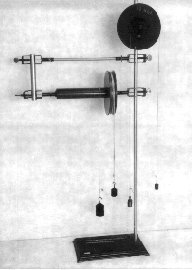 B2-31: EQUILIBRIUM OF TORQUES - WHEELS AND AXLES
PURPOSE: To demonstrate equilibrium of torques.
DESCRIPTION: Two wheel and axel assemblies are provided. For each, there are cylinders of smaller radius r and larger radius R. A smaller weight m is suspended from a string wrapped around the larger radius R, and a larger weight M suspended from the smaller radius r. For equilibrium of torques:
mR = Mr.
Numerical values are written on the apparatus.
SUGGESTIONS:
REFERENCES: (PIRA 1J40.27)
EQUIPMENT: Wheel and axel assemblies with weights and strings, as photographed.
SETUP TIME: None.
---