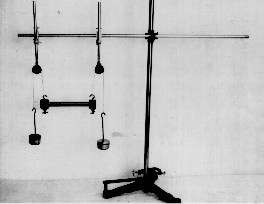 B2-23: TORQUE CONDITION FOR EQUILIBRIUM
PURPOSE: To demonstrate that equilibrium of forces is an insufficient condition for static equilibrium.
DESCRIPTION: The weight of the rod is balanced by two equal weights hung over pulleys. While holding the rod fixed, move a weight from one side to the other. The force condition for equilibrium is still met, but the torque condition is not satisfied, and the rod will rotate.
SUGGESTIONS:
REFERENCES: (PIRA unavailable.)
EQUIPMENT: Pre-assembled as photographed.
SETUP TIME: None.
---