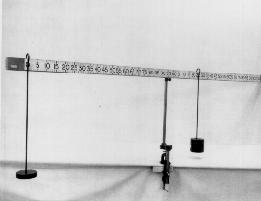 B2-32: EQUILIBRIUM OF TORQUES - LARGE
PURPOSE: To demonstrate equilibrium of torques.
DESCRIPTION: Weights are hung along the two-meter scale to balance torques about the center of the scale.
SUGGESTIONS: Designed for large groups; B2-33 is a smaller version.
REFERENCES: (PIRA 1J40.20)
EQUIPMENT: Scale with support, two 1-kg weight hangers, three 1-kg masses.
SETUP TIME: None.
---