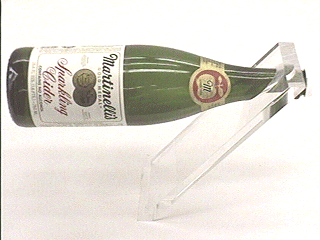 B1-14: CENTER OF MASS - BOTTLE
PURPOSE: To demonstrate the center of mass in a surprising way.
DESCRIPTION: The neck of a wine bottle fits into a hole in a plastic support. If the center of mass of the system is above the base area of the plastic support, the system will be in stable equilibrium, and the wine glass will remain at rest in an apparently unlikely position.
SUGGESTIONS:
REFERENCES: (PIRA 1J20.60)
EQUIPMENT: Wine bottle with plastic support, as photographed.
SETUP TIME: None.
---