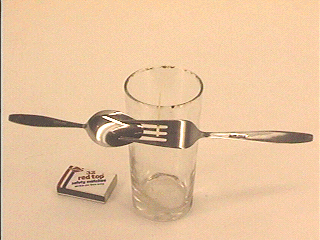 B1-13: CENTER OF MASS - FORK AND SPOON ON TOOTHPICK
PURPOSE: To illustrate the center of mass with a surprise.
DESCRIPTION: Insert the spoon between the tines of the fork and balance the system on the edge of the glass using a toothpick.
SUGGESTIONS: Burn the toothpick from the inside end, and ask the students when the system will fall. IT WON'T! The flame goes out when it gets to the edge of the glass and the heat is absorbed by the glass. The fork and spoon remain balanced..
REFERENCES: (PIRA 1J20.20)
EQUIPMENT: Fork, spoon, toothpicks, glass, and matches, assembled as photographed.
SETUP TIME: None.
---