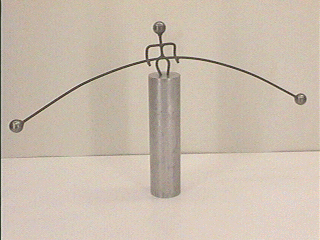 B1-11: BALANCE MAN
PURPOSE: To illustrate stable equilibrium for an object with its center of mass external to the object.
DESCRIPTION: When set on its pedestal, the Balance Man rocks back and forth, but will remain on the pedestal even if supported by only one leg. The center of mass is along the line of symmetry of the figure a short distance bel ow the legs.
SUGGESTIONS:
REFERENCES: (PIRA 1J20.40)
EQUIPMENT: Balance Man with pedestal, as photographed.
SETUP TIME: None.
---