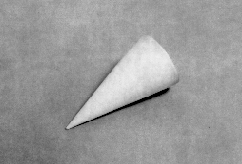 B1-08: STATES OF EQUILIBRIUM - CONE
PURPOSE: To illustrate stable, unstable, and neutral equilibrium.
DESCRIPTION: The cone resting on its base is in stable equilibrium. Balancing on its tip, the cone is in unstable equilibrium. Lying on its side, it is in neutral equilibrium.
SUGGESTIONS:
REFERENCES: (PIRA 1J20.11)
EQUIPMENT: Small, hollow brass cone, as photographed.
SETUP TIME: None.
---