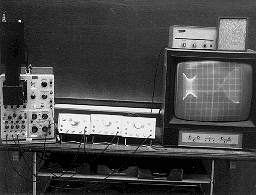 P2-15: WAVE PACKETS - OSCILLATORS
PURPOSE: Show that wave packets begin to form when sinusoidal oscillations with similar frequencies are combined.
DESCRIPTION: This is a generalization of the familiar beats experiment. Tune one of the oscillators to 500 Hertz, then tune the others to 499 Hertz and 501 Hertz using beats. When the third oscillator is added, notice that some of the beat envelopes are enhanced and others are inhibited.
SUGGESTIONS:
REFERENCES: (PIRA unknown.)
EQUIPMENT: Three audio oscillators, audio amplifier and loudspeaker, four-trace oscilloscope on scope/TV cart.
SETUP TIME: 10 min.
---