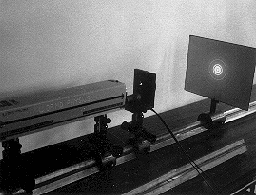 P2-14: ELECTRON DIFFRACTION MODEL
PURPOSE: Analog to diffraction of electrons or x-rays by a powdered crystal.
DESCRIPTION: The laser creates a diffraction pattern of a wire mesh, a series of dots forming a square array. If the mesh is rotated a few times per second circles are formed, representing the random orientation of a powdered crystal target. Circles with the lowest combined order number are brighter.
SUGGESTIONS:
REFERENCES: (PIRA unknown.)
EQUIPMENT: Laser cart with rotator and power supply, wire mesh.
SETUP TIME: 5 min.
---