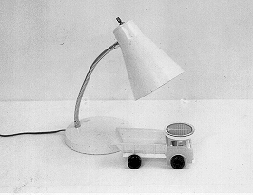 P2-06: PHOTOELECTRIC TRUCK
PURPOSE: Photocell powers a small truck.
DESCRIPTION: Shine a 100 watt goose neck lamp onto the photocell on top of the truck to make it start; remove the lamp to stop the truck.
SUGGESTIONS:
REFERENCES: (PIRA 7A10.40)
EQUIPMENT: Photoelectric truck and goose neck lamp with 100 watt bulb.
SETUP TIME: None.
---