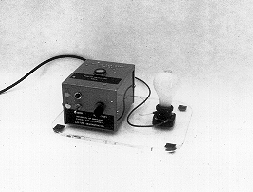 P2-05: PHOTO-RESISTOR RELAY
PURPOSE: Demonstrate operation of a photoresistor.
DESCRIPTION: A selenium photoresistor is in series with the coil in a relay circuit used to turn a light on and off. When no light shines on the selenium, it has a high resistance; however, as light falls on it the resistance falls. When the resistance is low the photoresistor passes current which turns on the relay. The light is connected in series with 110VAC through a normally open relay contact. Thus the light is made to go on and off because of the change in the resistance of the selenium due to an external light, which causes the relay to close or open.
SUGGESTIONS:
REFERENCES: (PIRA 7A10.42)
EQUIPMENT: Mounted photoresistor and light with 100 watt goose neck lamp.
SETUP TIME: None.
---