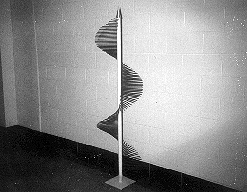 P1-12: SPACETIME DIAGRAM IN 3D - EARTH ORBITING SUN
PURPOSE: Illustrate spacetime diagram and world line concepts.
DESCRIPTION: The central pole represents the worldline of the sun (time plotted vertically) at rest. The tips of the red spokes represent the position of Earth at successive times (Connect them mentally to get the Earth world line.).
Point out the first lecture (September on Earth) event and the last lecture (December on Earth) event.
SUGGESTIONS:
REFERENCES: (PIRA unknown.) See Demonstration Reference File for refeences.
EQUIPMENT: Circular polarization stick model.
SETUP TIME: None.
---