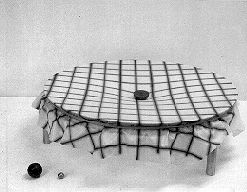 P1-11: CURVATURE OF SPACE
PURPOSE: Model effect of curvature of space.
DESCRIPTION: A ruled rubber sheet is stretched uniformly over a hoop, with a heavy weight placed in the center of the membrane. The lines indicate the curvature of space. Two smaller balls roll around the membrane to demonstrate the effect of curved space on moving bodies and light rays.
SUGGESTIONS:
REFERENCES: (PIRA unknown.)
EQUIPMENT: Ruled rubber membrane on hoop assembly, heavy ball and two light balls.
SETUP TIME: None.
---