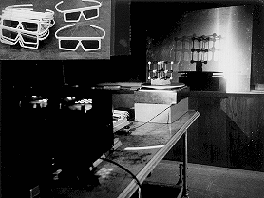 O4-52: POLARIZATION 3D EFFECT
PURPOSE: Demonstrate use of polarization to produce 3D.
DESCRIPTION: Polaroids at +&- 45 degree diagonal orientation positioned in front of the double point source shadow project a crystal model rotating on a 33 1/3 RPM turntable onto an aluminum sheet. Viewers wearing polarized 3D glasses see the a ction in three dimensions.
This technique is used in many really high-class three-dimensional movies, such as that at Disney World in Orlando. The screen must be a conductor so that the polarization of the reflected wave is maintained.
SUGGESTIONS:
REFERENCES: (PIRA unknown.)
EQUIPMENT: Double bright point source with two mounted polaroids, crystal model on rotating turntable, aluminum screen, polarization 3D goggles.
SETUP TIME: 10 min..
---