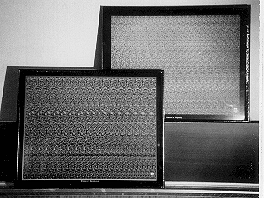 O4-53: STEREOGRAMS - 3D IMAGES FROM RANDOM PATTERNS
PURPOSE: Stereoscopic view from repeated patterns.
DESCRIPTION: Stare at the stereogram from about 8-10 feet and allow your eyes to focus at infinity. When the patterns from two adjacent segments in the stereogram are superposed, a really neat three-dimensional picture is observed.
SUGGESTIONS: Is this called a stereogram because you stare at it?
REFERENCES: (PIRA unknown.)See Demonstration Reference File for further information.
EQUIPMENT: Two stereograms: "Desert Serenade" and Nature's Majesty."
SETUP TIME: None.
---