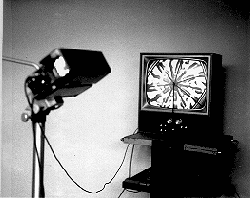 O4-13: FEEDBACK PATTERNS WITH B&W TV CAMERA AND MONITOR
PURPOSE: Demonstrate positive feedback in an amusing way.
DESCRIPTION: By pointing a black and white TV camera at a black and white TV monitor random positive feedback of the signals can be obtained. If the camera is rotated by 360/N degrees, where N is a small integer (say 3 to 6), pulsating or throbbing patterns with N-fold symmetry are produced.
Tilt the camera at some angle. Using a pointer or your finger, adjust the height of the camera until it is even with the center of the screen. Focus on the pointer tip and move the camera along the optical axis until the magnification is one. The tilt of the camera produces the symmetry; slight changes produce various clockwise or counterclockwise motions.
For this photo, the angle is 60 degrees, and the camera is at f2 about 1.5 meters from the monitor. Play around with the camera and TV controls until you get an interesting pattern. Then try to explain it.
SUGGESTIONS:
REFERENCES: (PIRA unknown.)
EQUIPMENT: Black and white TV camera with tilting mount on tripod, black and white TV monitor.
SETUP TIME: 5 min..
---