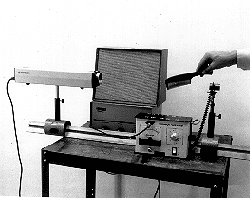 O4-12: SAWING LASER BEAM WITH COMB
PURPOSE: Produce small segments of sawed off laser beam.
DESCRIPTION: Drag a comb through the laser beam. The sawing sound is obtained by letting the laser beam strike a radiometer, the output of which is fed into an audio amplifier and loudspeaker. Cut off small segments of laser beam, which can be obtained by palming small pieces of previously prepared wire with red plastic insulation.
Do this one for elementary school kids. They will come up after your program to get a piece of the laser beam!
SUGGESTIONS: We are not responsible for the deep disillusionment which everyone expresses after they find out that this demonstration is a hoax.
REFERENCES: (PIRA unknown.)
EQUIPMENT: Laser and radiometer mounted on optical rail, small audio amplifier and loudspeaker.
SETUP TIME: 5 min.
---