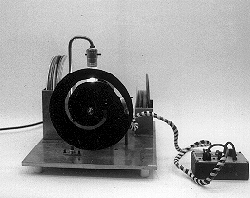 O4-21: TRAVELING LIGHT ILLUSION
PURPOSE: Classic travelling light illusion.
DESCRIPTION: When the disc with a spiral groove rotates in front of a clear long filament bulb at about one revolution per second, the light rises slowly, then quickly returns to the center and rises again. When the disc is stopped the light and spiral appear to fall toward the center.
SUGGESTIONS:
REFERENCES: (PIRA unknown.)
EQUIPMENT: Rotator with disc.
SETUP TIME: None.
---