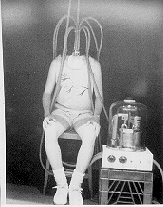 O4-11: HEADLESS WOMAN
PURPOSE: The infamous magic trick.
DESCRIPTION: Two front surface mirrors at about 90 degrees cover the woman's head. The five real "life support" tubes also reflect in the mirrors to produce five more and enhance the illusion.
SUGGESTIONS:
REFERENCES: (PIRA unknown.) See Demonstration Reference File for further information.
EQUIPMENT: Pre-assembled setup in black-enclosed shroud on rolling cart. Allow time to find a good woman (or man).
SETUP TIME: 5 min..
---