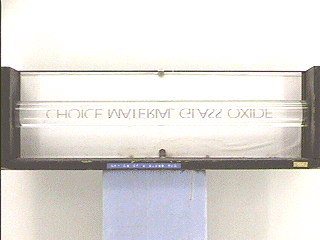 O4-06: OPTICS OF A GLASS ROD
PURPOSE: To stimulate thought about the variation of the index of refraction with color.
DESCRIPTION: The phrase "CHOICE MATERIAL GLASS OXIDE" with CHOICE .......... OXIDE red and .....MATERIAL GLASS..... blue is viewed through a glass rod, which clearly inverts the blue words while apparently leaving the red words erect.
Those who are familiar with the dispersion of light by a prism might immediately jump to the conclusion that this effect is due to the variation of index of refraction (and therefore focal length) with wavelength. Further reasoning can be used to conc lude that if this is so, the focal points are different for each color, and therefore the magnifications should be different.
As a hint, hold your finger just above the red letters. Because your finger is below the letters in the image, your students might conclude that the red letters are in fact upside down, and figure out what happened to them.
SUGGESTIONS:
REFERENCES: (PIRA unknown.) See Demonstration Reference File for a multitude of variations as well as other important information on this very significant and thought-provoking demonstration.
EQUIPMENT:
SETUP TIME: None.
---