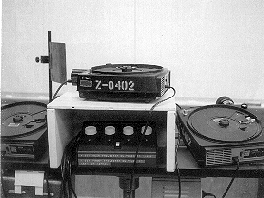 N3-44: THE COLOR OF COPPER
PURPOSE: To show that light reflected from copper is a desaturate orange.
DESCRIPTION: Light from a slide projector reflected off a polished piece of copper plate onto a screen exhibits its classic color, as seen at the bottom of the photo above. The color at the top is a desaturated orange produced as follows: red and blue filters are mixed to produce a saturated orange, then dim white light is added by a third projector to desaturate the orange color.
SUGGESTIONS:
REFERENCES: (PIRA unknown.)
EQUIPMENT: Three slide projector cart with red, green, and white slides, slide projector with blank slide and mounted piece of polished copper.
SETUP TIME: None.
---