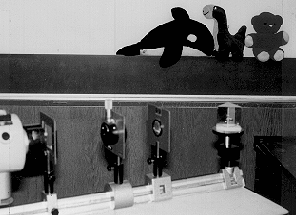 N3-43: COLORS REFLECTED FROM COLORED OBJECTS
PURPOSE: Show why colored objects look colored.
DESCRIPTION: A white light prism spectrum which has been dispersed as much as possible is used to illuminate various colored objects such as brilliantly colored fuzzy toy animals. The animals only show a particular color when (1) the fur actually reflects, or will not absorb the color in question, (2) the illumination contains that color of light. For example, a red teddy bear will only appear red if red light is in the spectrum of the illumination. White fur takes on whatever color illuminates it. Pure blue fur appears black (no reflected light) when illuminated by light containing no blue wavelengths.
This is the reason why spectral streetlights such as sodium and mercury are often disdained.
SUGGESTIONS: Do not feed the animals.
REFERENCES: (PIRA 6F10.75)
EQUIPMENT: Bright point source with condenser lens and iris, 10cm focal length cylindrical convex lens, slit, 20cm spherical convex lens, and flint glass prism, with lots of brilliantly colored fuzzy stuffed animals.
SETUP TIME: 5 min.
---