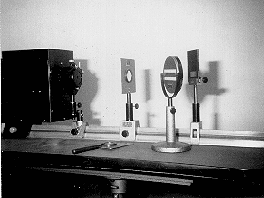 N3-45: REFLECTION AND TRANSMISSION FROM GOLD FOIL
PURPOSE: Show the complementary relationship between light reflected from and transmitted by a thin gold foil.
DESCRIPTION: Light from a bright point source with condenser lens and baffle is focused by a 30 cm focal length convex lens through a gold foil onto a distant screen. Some light is reflected off the gold foil, then reflected again by a front surface mirror onto the screen, forming a spot adjacent to the direct transmitted beam. The reflected beam is gold in color, typical of light reflected from gold. The transmitted light is bluish in color, the complement of the color of gold. Rotate the front surface mirror to superimpose the reflected and the transmitted light and get back white!
SUGGESTIONS:
REFERENCES: (PIRA 6F10.61)
EQUIPMENT: Thin gold foil (from old bookbinder's stock) mounted between glass slides, bright point source with condenser lens and iris, 30cm focal length convex lens, and front surface plane mirror on mount.
SETUP TIME: 5 min.
---