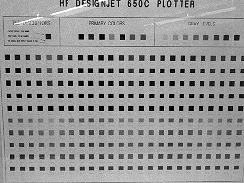 N3-42: COLOR MIXING IN PRINTER - CHART
PURPOSE: Show how modern printer achieves its range of colors.
DESCRIPTION: This is a large chart (over one meter square) which shows all of the 256 colors produced by a modern color printer and specifies the admixtures of the primary colors used for each. It includes 8 scales of gray, 8 primary positive and negative colors (black, white, red, green, blue, yellow, cyan, magenta) and a 10 x 24 grid of colors with identifying admixtures.
This particular chart is an advertising gimmick for the HP Designjet 650C Plotter, and a very good one, I must say.
SUGGESTIONS: Can be shown to a class, then inspected individually to understand the details.
REFERENCES: (PIRA unknown.)
EQUIPMENT: Printer color chart framed with glass front.
SETUP TIME: None.
---