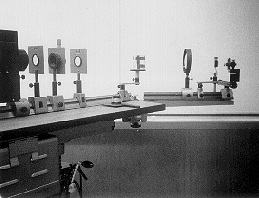 N3-41: SPLITTING OF SPECTRUM INTO COMPLEMENTARY COLORS
PURPOSE: Show complementary colors by removing a band from the white light spectrum.
DESCRIPTION: A baffle is inserted into the focal point of the white light spectrum, removing a narrow band of color. The light removed is reflected by the baffle to a mirror which reflects it to the screen, adjacent to the rest of the spectrum, which has been recombined and focused onto the same screen. The two parts of the spectrum are complementary colors.
The baffle can be moved across the spectrum to obtain various complementary color combinations.
SUGGESTIONS:
REFERENCES: (PIRA 6F10.35)
EQUIPMENT: Bright point source with condenser lens and iris, 10cm focal length cylindrical convex lens, slit, 10cm focal length spherical convex lens, equilateral flint glass prism, large diameter 20cm focal length convex lens, glass slide with 5mmx20mm front surface mirror, front surface mirror on swivel mount.
SETUP TIME: 10 min.
---