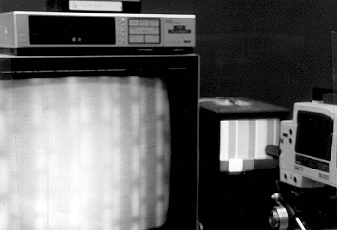 N3-04: POSITIVE COLOR MIXING IN COLOR TV
PURPOSE: Show how color TV produces colors.
DESCRIPTION: A color band test pattern is played onto a color monitor which is viewed by a minicam in the microzoom mode with its picture displayed on a second color monitor. Viewing the various color bands shows how the color TV colors are produced and mixed.
SUGGESTIONS:
REFERENCES: (PIRA unknown.)
EQUIPMENT: Videocassette deck with color bar video, two color TV monitors and color minicam on tripod and dolly.
SETUP TIME: 10 min..
---