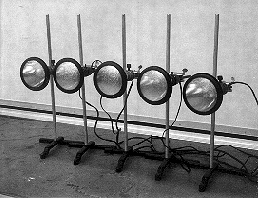 N3-03: COLOR MIXING WITH DICHROIC SPOTLIGHTS
PURPOSE: Demonstrate additive color mixing of lights.
DESCRIPTION: Five dichroic spotlights are available, primary red, primary green, primary blue, yellow, and orange. Shine the lights on a screen to demonstrate color mixing.
These spotlights use dichroic filters to achieve their color.
SUGGESTIONS:
REFERENCES: (PIRA unknown.) See Demonstration M4-12: DICHROIC FILTERS and the Demonstration Reference File for that demonstration for information on how these filters work.
EQUIPMENT: Dichroic spotlights on mounts.
SETUP TIME: 5 min.
---