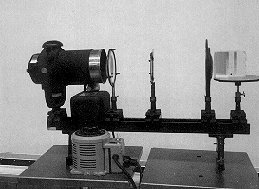 N1-07: VARIATION OF SPECTRUM WITH LAMP INTENSITY
PURPOSE: Demonstrate continuous spectrum as the brightness of the source changes.
DESCRIPTION: An incandescent bulb source with reflector is used to provide a continuous white light spectrum. The intensity of the source bulb is adjusted using a variac on the input to the bulb transformer. As the light intensity is decreased, the spectrum becomes less intense but also shifts significantly toward the red. Increasing the source intensity, and thus the blackbody temperature, shifts the spectrum to the blue as the intensity increases.
SUGGESTIONS:
REFERENCES: (PIRA unknown.)
EQUIPMENT: Permanently mounted spectrum setup, as photographed, with variac.
SETUP TIME: None.
---