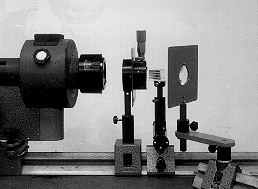 N1-06: POLYPRISM SPECTRA
PURPOSE: Demonstrate continuous spectra with several different types of glass.
DESCRIPTION: The bright point source is used to provide a continuous white light spectrum. Light from the point source is collimated by a condenser lens with iris and focused by a 10 cm focal length cylindrical lens onto a slit. A 20 cm focal length convex lens then images the slit onto the screen through an equilateral prism.
This prism has four layers with glass having different refractive indexes: crown glass (BK-7), 1.52; flint glass, 1.62; flint glass, 1.73; heavy flint glass, 1.78.
SUGGESTIONS:
REFERENCES: (PIRA 6A42.60)
EQUIPMENT: Bright point source with condenser lens and iris, 10cm focal length cylindrical convex lens, slit, 20cm spherical convex lens, and polyprism.
SETUP TIME: 5 min.
---