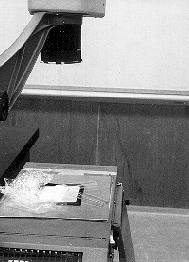 M8-14: PHOTOELASTICITY
PURPOSE: To demonstrate photoelasticity in plastic.
DESCRIPTION: A polarizing sheet is mounted on a baffle which is positioned on the platform of the overhead projector, and a second polarizing sheet is connected to the lens of the projector. Rotating the upper polaroid shows how polaroids work. With the two polarizers crossed, a U-shaped piece of plastic is placed on the platform and squeezed at its ends to produce stress patterns with varied colors and intensities. A plastic sheet can be stretched to show similar patterns.
SUGGESTIONS:
REFERENCES: (PIRA 6H35.50, 6H35.55)
EQUIPMENT: Polarizers for overhead projector mount, plastic U, plastic sheet.
SETUP TIME: None.
---