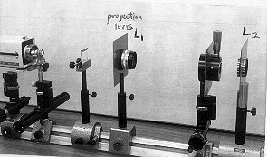 M5-33: FRAUNHOFER DIFFRACTION AND SPATIAL FILTERING - VERS 3
PURPOSE: To demonstrate spatial filtering.
DESCRIPTION: The expanded laser beam illuminates a cloth mesh. The laser beam is focused onto a slit by a 12 cm focal length projection lens. The 5 cm focal length projection lens images the slit onto a screen.
The image of the of the mesh appears on the screen in the absence of L2, but its Fourier transform (the Fraunhofer diffraction pattern) appears at the focal plane of L1. By inserting L2 it is possible to image the slit and therefore the Fraunhofer diffraction pattern on the screen. Closing the slit blocks successively lower Fourier components, removing the vertical lines of the mesh.
SUGGESTIONS:
REFERENCES: (PIRA 6Q20.30)
EQUIPMENT: Laser with pinhole and 8mm focal length convex lens, 17.5 or 43 line per inch bolting cloth grid, 12 cm focal length projection lens, precision slit, 5cm focal length projection lens, and screen.
SETUP TIME: 20 min.
---