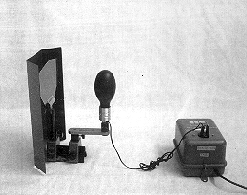 M4-01: INTERFERENCE IN THIN MICA SHEET - PROJECTION
PURPOSE: Demonstration of thin film interference.
DESCRIPTION: Reflection of a high-intensity mercury lamp off the two surfaces of a thin mica sheet creates a nice series of interference rings. This is easily visible over the entire lectrue hall.
SUGGESTIONS: Lamp has five minute full warm-up time.
REFERENCES: (PIRA 6D30.40)
EQUIPMENT: Mounted mica sheet and lamp with light baffle, power supply.
SETUP TIME: None.
---