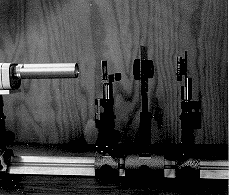 M5-32: FRAUNHOFER DIFFRACTION AND SPATIAL FILTERING - VERS 2
PURPOSE: Demonstrate spatial filtering by removing lines from a grid.
DESCRIPTION: The beam from a laser, expanded to 2-3 cm in size, illuminates a slide containing several points with a line fit to them on a crossed-line grid. The spatial filter is used to remove the grid, leaving only the points and line, as shown in the photograph above.
For this experiment a 10 cm focal length projection lens is used to focus the image of the slide onto a ground glass screen at the right in the photograph which is viewed by a TV camera to display for the class. A crosshair positioned on an x-y adjustment gizzit is moved into position (further from the projection lens than shown in the picture) to filter the grid.
SUGGESTIONS:
REFERENCES: (PIRA 6Q20.30) See Demonstration Reference File for details regarding alignment.
EQUIPMENT: Laser cart with 20X collimator, object slide, 10cm focal length projection lens, crosshair on x-y positioner, ground glass screen, and TV camera with monitor.
SETUP TIME: 20 min.
---