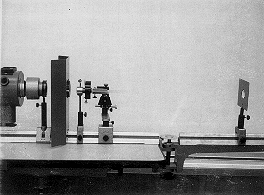 M5-23: LLOYD'S MIRROR - WHITE LIGHT
PURPOSE: White light interference from Lloyd's mirror.
DESCRIPTION: More fringes can be shown with a laser, but it is interesting to show that ordinary white light does interfere. Lloyd's mirror shows fewer "extraneous" diffraction effects than other wave-front splitting interferometers. An important point here is to show that a phase change occurs on reflection from the glass surface of the mirror. This is hard to show because the center (plane of mirror) is difficult to determine. However, it is shown indirectly by the sequence of colors in the white light fringes: the first easily visible color separation is the first order dark fringe, red-black-blue going away from the center.
Projection on a ground glass screen is bright and pretty for individual viewing. Projection on large screen is dim and hard to see from distance. The color minicam with TV projector can be used for large groups.
SUGGESTIONS:
REFERENCES: (PIRA unknown.) See also M5-22: LASER DIFFRACTION - LLOYD'S MIRROR.
EQUIPMENT: Bright point source with condenser lens and iris, light baffle, translating slit, Lloyd's mirror on tilting mount, 8 cm focal length convex lens, and ground glass screen.
SETUP TIME: 10 min.
---