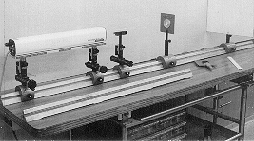 M5-22: LASER DIFFRACTION - LLOYD'S MIRROR
PURPOSE: Laser interference using Lloyd's mirror.
DESCRIPTION: Lloyd's mirror is a simple polished glass front surface reflector. The laser beam is aligned so that the beam is very nearly parallel to the surface of the mirror but does not hit the edge. The direct and reflected light interferes so that the central spot is dark. This demonstrates that with no path difference the phase is changed by reflection. Move the mirror very slightly to find the central dark band. A 2 cm focal length convex lens is used to focus the pattern on a nearby screen.
SUGGESTIONS:
REFERENCES: (PIRA unknown.)
EQUIPMENT: Laser cart with Lloyd's mirror, 2cm focusing lens and screen on optical rail.
SETUP TIME: 5 min.
---