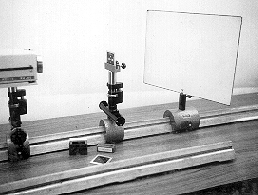 M5-03: LASER DIFFRACTION - OPTICAL CRYSTALS
PURPOSE: Two dimensional diffraction patterns with crystal symmetries.
DESCRIPTION: These optical crystals consist of simple arrays of various shaped diffraction centers arranged with several two dimensional symmetries. Diffraction by such a crystal produces a pattern with the symmetry of the scattering slide. Wi nner of the 1973 AAPT apparatus competition.
SUGGESTIONS:
REFERENCES: (PIRA 6D20.57)
EQUIPMENT: Laser cart with optical crystals.
SETUP TIME: None.
---