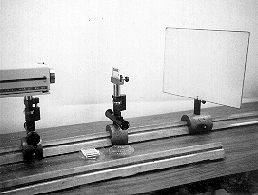 M5-02: LASER DIFFRACTION - MESHES
PURPOSE: Diffraction by symmetric wire or fiber meshes.
DESCRIPTION: Positioning a mesh in the laser beam produces a symmetric two dimensional diffraction pattern on the screen. Meshes made from wire or bolting cloth are available in a variety of sizes.
SUGGESTIONS: Demonstration P2-14: ELECTRON DIFFRACTION MODEL rotates one of these two dimensional gratings in the laser beam to model the diffraction pattern of electrons by a powdered crystal.
REFERENCES: (PIRA 6D20.50)
EQUIPMENT: Laser cart with meshes: 17.5/cm, 43/cm, 86/cm, 125/cm, and 156/cm bolting cloth; 16/inch, 111/inch, 250/inch, 500/inch, and 1000/inch wires.
SETUP TIME: None.
---