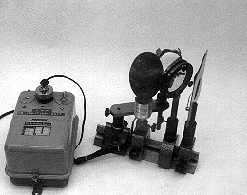 M4-02: NEWTON'S RINGS - PROJECTION
PURPOSE: Projection of Newton's rings.
DESCRIPTION: A high-intensity mercury lamp illuminates a pair of touching glass surfaces, one plane and the other convex, contacting each other along the central ray. The reflected light is focused onto a distant screen, forming the classical Newton's rings interference pattern.
SUGGESTIONS:
REFERENCES: (PIRA 6D30.10)
EQUIPMENT: Newton's rings glass surfaces with mercury lamp, 5cm convex focusing lens, and light baffle.
SETUP TIME: None.
---