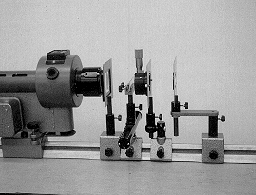 M4-03: WEDGE INTERFERENCE FILTER
PURPOSE: To demonstrate interference by a variable thickness wedge.
DESCRIPTION: Two semitransparent silver films are on glass plates which are sealed together but separated by a uniformly wedged transparent spacer film. Interference between the waves reflected off the two interior surfaces either cancel or reinforce the reflected wave, enhancing the transmitted wave to produce partially saturated colors.
SUGGESTIONS:
REFERENCES: (PIRA 6D30.30)
EQUIPMENT: Wedge interference filter with bright point source, 10cm focal length cylindrical lens, 10cm focal length spherical lens, and slit on rolling optical rail.
SETUP TIME: 5 min.
---