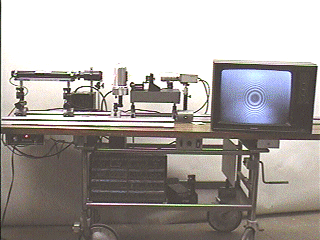 M3-42: FABRY-PEROT INTERFEROMETER - SODIUM LIGHT
PURPOSE: Sodium light interference with Fabry-Perot interferometer.
DESCRIPTION: Using sodium light a nice circular interference pattern can be obtained, which can be effectively viewed with the TV camera zoom lens. The Fabry-Perot interferometer can resolve the sodium doublet, as seen in the photograph at the right.
SUGGESTIONS: This setup can also be viewed individually; see Demonstration Reference File for details.
REFERENCES: (PIRA unknown.) See Demonstration Reference File for other details regarding setup.
EQUIPMENT: Sodium lamp, Fabry-Perot etalon mounted on Michelson interferometer base, TV camera with zoom lens and monitor.
SETUP TIME: 15 min. (Warm-up time for sodium light)
---