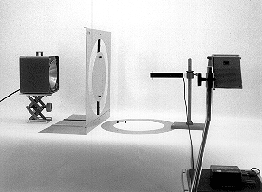 M2-23: MICROWAVES - FRESNEL ZONES
PURPOSE: To demonstrate a zone plate using microwaves.
DESCRIPTION: A Microwave beam is incident onto a zone plate with two zones. A number of maxima an minima can be observed if the receiver antenna is moved along the optic axis. Positioning the receiver at a minimum, either the ring or the central disc can be re-installed into the zone plate, resulting in an increase in the microwave intensity at the receiver. This system worked nicely for a source to zone plate distance of about 63 cm and a zone plate to receiver distance of about 23 cm.
SUGGESTIONS:
REFERENCES: (PIRA 6C20.45)
EQUIPMENT: Microwave source and receiver with overhead projector microammeter, zone plate.
SETUP TIME: 5 min.
---